Ring-Grooved Lockbolts
From design, manufacturing, quality control, to assembly applications, everything is built for better connections
Features and Benefits
Large grip range reduces the inventory of fasteners and simplifies the inventory control and is suitable for various sheet material thickness.
High shear and tensile strength for high-strength assembly, ensure the excellent vibration resistance.
Fast installation for massive applications
Dome head, countersunk head and large flange head are suitable for multiple applications.
Easy for impact checking
Wide scope selection for dedicated installation tools.

Material
Steel; Aluminum; Stainless steel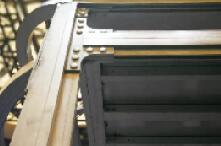 Application Areas
Automobile
Railway systems
Medium & high voltage cabinet
Home appliance
Other industries
Specification
d mm
L mm
4.8
1.57
3.18
4.75
6.35
7.92
9.53
11.10
12.70
14.27
15.88
17.45
19.05
20.62
22.23
23.80
25.40
26.97
28.58
30.15
6.4
1.57
3.18
4.75
6.35
7.92
9.53
11.10
12.70
14.27
15.88
17.45
19.05
20.62
22.23
23.80
25.40
26.97
28.58
30.15
8.0
3.18
6.35
9.53
12.70
15.88
19.05
22.23
25.40
28.58
31.75
34.93
38.1
41.28
44.45
47.63
9.6
3.18
6.35
9.53
12.70
15.88
19.05
22.23
25.40
28.58
31.75
34.93
38.1
41.28
44.45
47.63
available of CSK, all are available of dome head and large flange.

Large Dia.

12.7
32
38
44
50
57
63
70
76
83
89
96
103
109
115
121
15.9
36
42
48
54
61
67
74
80
87
93
100
107
19.1
39
45
51
57
64
70
77
83
90
96
103
110
116
122
128
22.2
42
48
54
60
67
73
80
86
93
99
25.4
46
52
58
64
71
77
84
90
97
103
110
117
123
129
135